Hi everyone!
It's been a while since my last post, I'm so sorry
But, now I'm back! I got a lens review to share with you guys hope you like it!
Before I left Thailand for Denmark/Sweden, I had to pick up some lenses along the way of course they're cheaper and yearly (but perfectly safe, but be warned check them thoroughly and ask the seller) and I stumbled upon Pro Trend Color contact lenses, made in Korea! These are by far the most INSANELY COMFORTABLE circle/colored lenses I've ever gotten.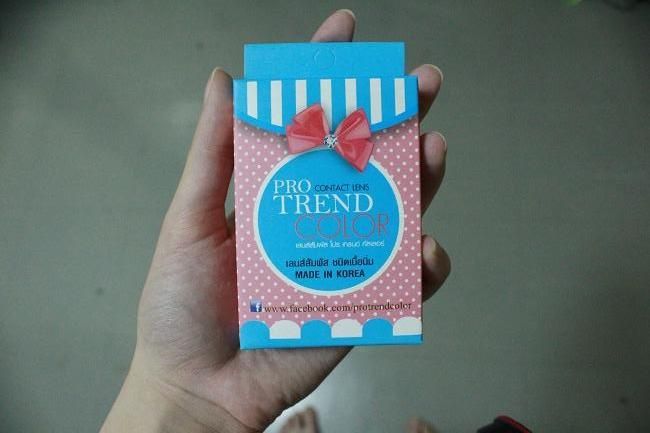 On the back side it says:
"PRIME Color Vision Co.,Ltd 164. Uihang-ri, Changpyrong-myeon, Damtang-gun, jeollanam-do, Korea (something in Thai that's too small for me to read) Prefect Woman (Thailand) CO., LTD 1/36 SOI Rajburana 44 Rajburana Bangkok 10140. www.protrendcolor.com"
I'll just say now that the website doesn't exist, but most Thai distributors don't have websites but Line's and etc since it's private people buying it from Korea (stock) and sells it around in Thailand.
They costed me 230Baht (39DKK/$7/5€) I'll just say it again, if you go to Thailand, find some lenses that looks identical to your favorite ones or discover new ones and bring them home! Great for cosplayers and CL enthusiasts alike~ + some sell great lenses for just 150Baht (25DKK/$4.59/3€)
The store can be found in Digital Gateway across Siam Center (diagonally across from Siam Paragon Mall), take the BTS to Siam and exit 2 to the left 3rd floor by Celeb Hair Salon. Owned by 2 adorable University Graduates and Korea lovers (girls)
I got them in a brown/hazel similar to my own outer ring of my eyes (hazel, mixed green), I forgot what model it was though it was in their 2nd photo album, page 8
Free lens case, also the glass containers were air tight! Like usual ~
This was taken in a very gloomy window light, also right before I cleaned my lenscase, sorry about the mess*
Let's see them in action!
My Canon was being a bit tricky with the focus + it's hard to take pictures up close of my eyes without lenses since I need prescribed power (-2.75)
(New all-time favorite lenses)
Here's one from a photo shoot I did, full face feel of the lens