Dashing title isn't it? Haha, I'm joking, but happy 12/12/12 - what there's so happy about it I dunno but, it seems like it's something special other than being 3 identical numbers on the same day and etc, you get it ey.
So I've been a little around and about. Trapped at school or studying at home and not been able to use the few hours of broad day light where I could take pictures 。゜(`Д´)゜。. So I'll wait with any other blog posts where my own pictures are needed!
like my really old review of a couple of circle lenses I got back in the summer../cough

Minor
wishlist
of mine for 2012! More like, "The-things-I-wish-I-could-get-but-will-never-get-list" ( ゚∀。)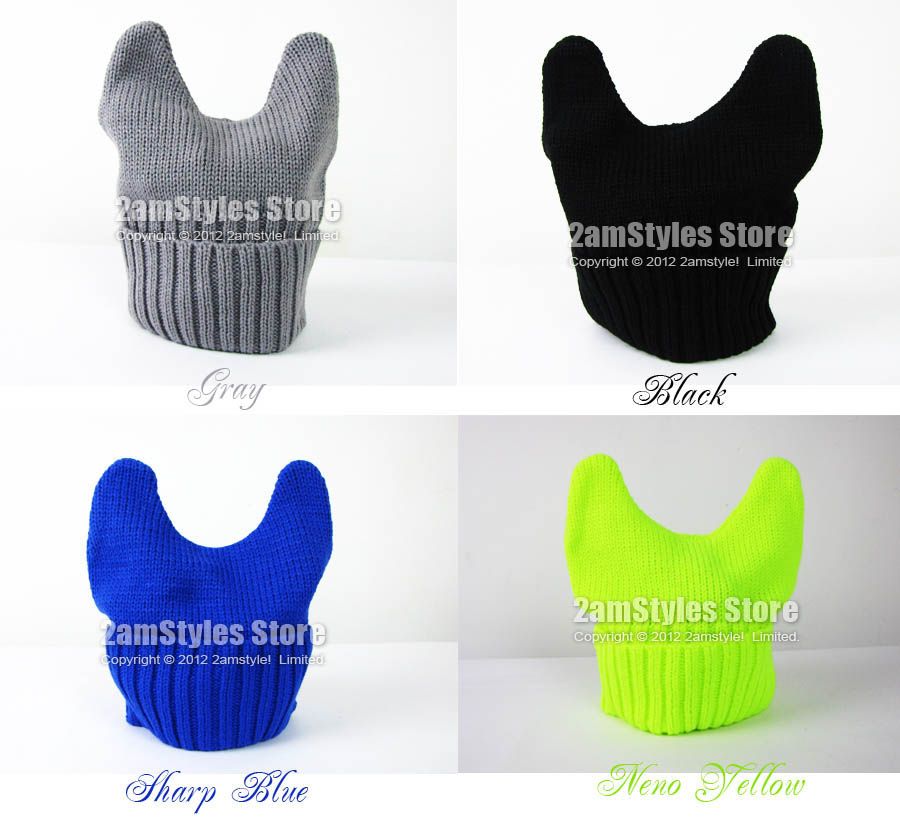 Cat eared knit beanie!
Ever since seeing this on Zelo (From B.A.P) glorious head in the Hajima (Stop It) MV (人´∀`*)
I've wanted to get either a similar (same color, ohohoho) one or black one.
Isn't it awesome?
Collar tip cats - I really am digging the trend of having those collar tips,
in gold or spiked, it's win win for me, but these I really wish were mine!
Also should maybe add some white shirts to my list..
I need some ╮(╯_╰)╭
1) The 'hat' with ears. It's so cute, I've been catching myself trying on hats in H&M lately..(ノ◇≦。)
2) The black cat clutch, it's pure awesomeness, it's cute and stylish and if I'm getting any clutch I really want it to be that one! (∩・∇・∩)
Think this bracelet from TOPSHOP is so fierce yet chic, that thing would be a treat on my arm for sure!
I'm a big sucker for crosses & silver, and silver in this shade is just divine!
I love it! I really feel like if I see this at TOPSHOP while I'm in London I might just grab it for myself
`・∀・´) ohohoo~
- yet again the crosses, seeing a pattern and my affectionate love for it? Haha<3 Geez.
It's awesome, what more can I say - need some sexual ear gear!
I just realized that this one had actual bling on it, makes me think twice if I really wants it..
I already got a necklace similar to this, it's in black and it's mat - bought that one from YesAsia
I love that one tho! Love it to bits! ♥♥♥
A pair of cute nude pumps - with spikes (´∀`*) Normally I'm not for pumps but, I find them very cute
Would love my own pair, also need more studded things<3
Studded clogs.
I really really am dying to get a pair of these, in the beginning I was like "nah, not really my thing" and then I kept seeing pics of them and I got sucked in! Now I want need a pair as well!!
And a pair of studded flats. Saw TOP wearing these (then band wagon BIGBANG followed along lol)
and I was like, "if I had flats, I would either get cute red vintage ones or THOSE"
My list is fair longer and more simple really but this is what I could come up with, where I think I could put it on a wishlist and my mom actually getting it for me. I wanna add Canon lenses (found a Sigma lens that was absolutely dreamy and I SOOOO want it - but, not like my mom could buy it for me..hah..) as well as lots guys clothes and whatnot but, that might be turned into a "want" list instead ;3
Hope you're enjoying Christmas so far and you're safe and sound<3
Take care people and till next time in LONDON SPOILERS HAHAHAHAH